WITNESSING THE IMPOSSIBLE
by Robin Foy
The complete story of the Scole Experiment
& the definitive journal of all the phenomena that occurred.
Robin and Sandra Foy have decades of experience in psychical research.
They share specialist knowledge of physical mediumship
and have experienced some extremely rare phenomena.
Such physical phenomena can be seen, heard and felt by everybody present
during an experimental seance, and may even be recorded or filmed where possible.
Between 1993 and 1998 at their home in Scole village in the UK, Robin and Sandra,
together with trance mediums Alan and Diana Bennett,
began an experiment to develop evidential physical phenomena
which could be demonstrated to scientists and the general public.

The results of this study became known as The Scole Experiment.
The sessions were hailed as a success by various scientists, lawyers, engineers, professional magicians and the public alike,
and contained some of the best ever proof of life after death.
Witnessing the Impossible contains a summary of every individual session of
the Scole Experiment - over 1,000 hours of mediumship and objective phenomena -
chapters on the group's foundation and the sudden and unexpected end
of their experiment in November 1998.
It is the only complete eyewitness account of this pioneering experiment,
which pushed the boundaries of psychical research further than ever before,
and consequently changed the face of physical mediumship for all time.
Witnessing the Impossible is essential reading for any serious student of psychical research,
those curious about seances or unusual phenomena,
and of immense interest to anyone who wants to know more
about the reality of life after death
and communication with discarnate spirit personalities.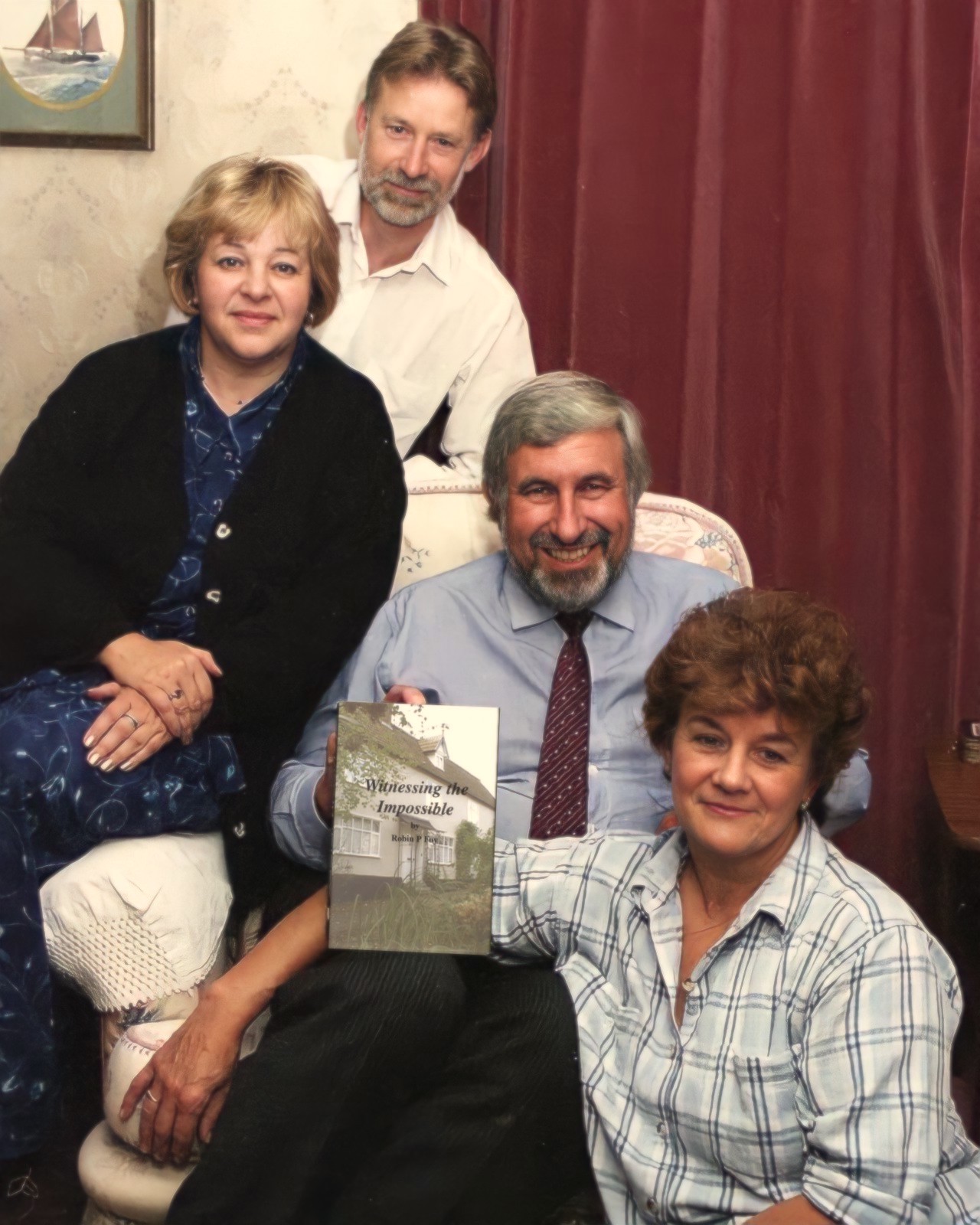 The Scole Group:  mediums, Diana and Alan Bennett
with researchers, Robin and Sandra Foy

photo credit: Denise Bradley
"…over the last 44 years, both during Scole and in other groups and circles,
we have seen and experienced most forms of physical phenomena.

Before Scole ended unexpectedly, our spirit team
was working towards producing phenomena in full light." 
- Sandra Foy
Robin Foy is one of only a handful of people in the world today who have,
through unique experience and research,
gained specialist knowledge of the phenomena of physical mediumship.
Born in 1943 in Blackpool, Lancashire, the author became an RAF pilot,
before spending more than thirty years in the paper manufacturing industry.
Robin lived in Norfolk for seventeen years before retiring to Spain with his wife Sandra.
He has a son, daughter and a granddaughter in the UK, and stepchildren with Sandra.
In the 1980s Robin was a co-founder of the Link of Home Circles
for the Institute of Spiritualist Mediums, and in 1990 he became the original founder
of the Noah's Ark Society for Physical Mediumship.
Robin and Sandra also co-founded the New Spiritual Science Foundation.

Robin published his first book in 1996, the biographical In the Pursuit of Physical Mediumship,
which details his early investigations into spirit contact
and the rise of the Scole Experimental Group.


Witnessing the Impossible is the definitive story of the Scole Experimental Group,
containing a detailed summary of every session
and descriptions of the phenomena that occurred during the experiment -
including the group's groundbreaking interactions with spirit beings and, ultimately,
their 'stellar friends' from other dimensions.

Psychic Book Club have only a limited supply of this scarce and important book

Witnessing the Impossible

in hardback w/dust jacket
560 pages
27 photographs
1.2kg

ISBN: 978-0-9560651-0-0
£59.00

Order securely
with Paypal or Debit/Credit Card

Worldwide Shipping Available
click for prices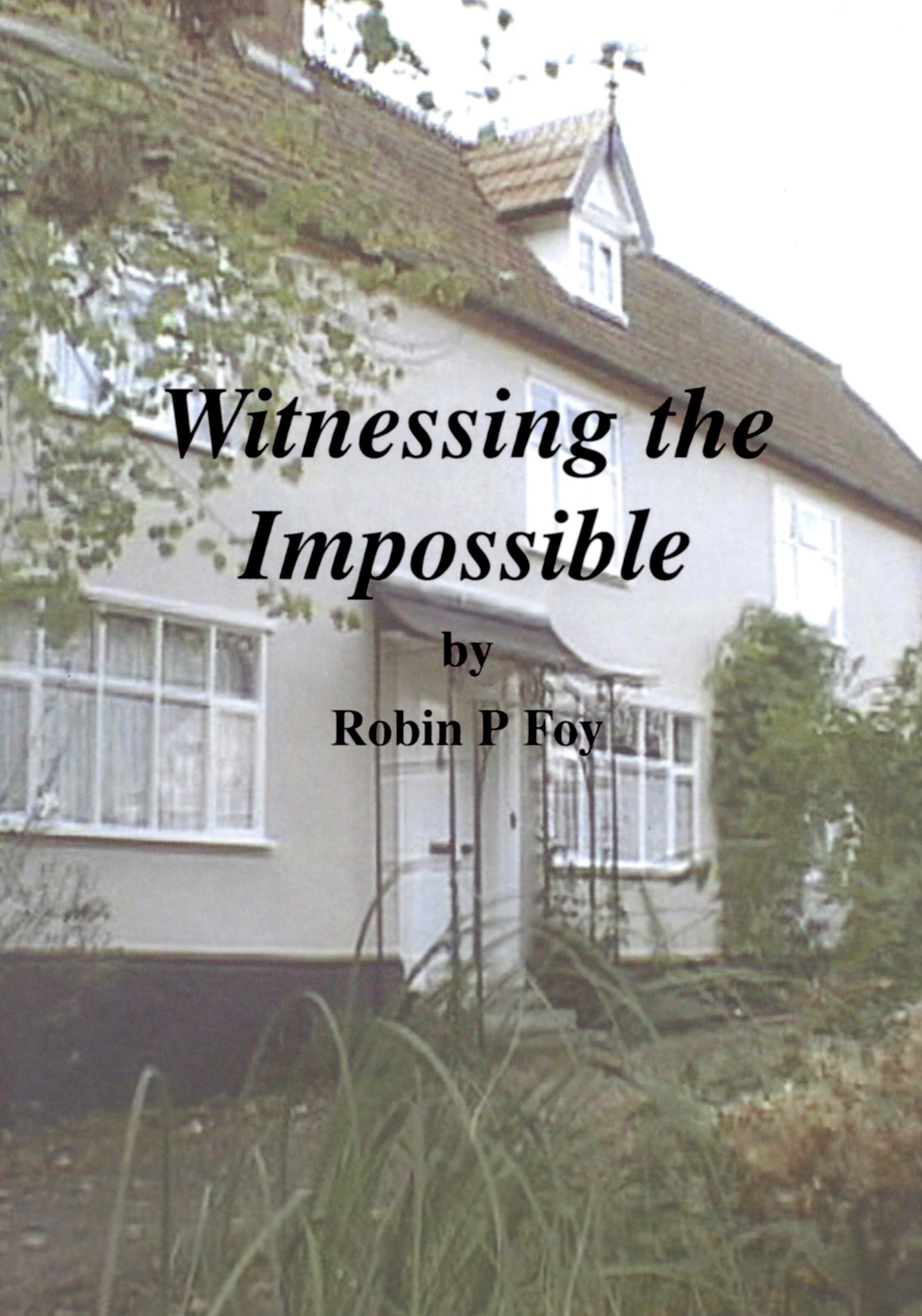 The front cover shows 'Street Farmhouse' in Scole village in Norfolk,
where Robin and Sandra Foy lived for 15 years from 1991 to 2006.
Street Farm was a working farm until around 1988, when the last farmer/tenant retired.
It was always a very happy house for Robin and Sandra, even though from moving in
they shared their home with three friendly ghosts,
which they and occasionally visitors saw from time to time.
It is rumoured that the old coaching inn next door, the Scole Inn, built in 1655, is haunted too.
The garden of Street Farmhouse was always an attractive picture,
and boasted a weeping ash tree that was over 300 years old.
Researching its history Robin and Sandra discovered the house appeared on village maps before the Scole Inn was built, and may have even existed as far back as the 16th century.
It was in this large house, of eleven rooms and two cellars,
that the Scole Experiment took place between 1993 and 1998.
The village of Scole itself is steeped in history, from the Iron Age and Roman times,
and was a major settlement known by the Romans as 'Villa Faustini'.
Even while Robin and Sandra lived there, the remains of a Roman centurion were discovered under a barn belonging to Street Farm.
Watch The Afterlife Investigations,
a film about The Scole Experiment, including interviews with Robin Foy. Directed by Tim Coleman